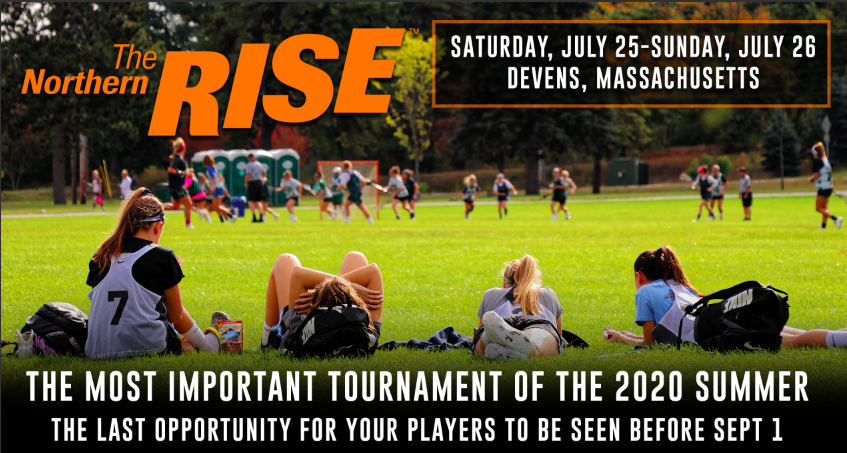 Over a decade old, The Northern RISE is the most intimate, most popular and most talked about recruiting showcase in the country! High school girls lacrosse players in the 2021, 2022, 2023 and 2024 grad years will come to battle it out on the fields to take home the title of the north.
We purposely keep this showcase small to maximize visibility for players. Fields are adjacent, making the event more convenient for both our College Coaches and spectators.
The Northern RISE is a stress-free event, so you can stay focused on the good stuff: the world of lacrosse. With an incredible staff, beautiful venue and the top competition from around the country The RISE has become a staple in the recruiting circuit.
DESIGNED UNLIKE ANY OTHER TOURNAMENT IN THE NATION!
A BOUTIQUE EVENT, NOT A MEGA TOURNAMENT

A CHAMPIONSHIP FORMAT FOR EACH DIVISION!

A BUILT IN RAIN SCHEDULE (THE ONLY EVENT IN THE COUNTRY THAT HAS TIME SET ASIDE FOR SEVERE WEATHER)

ONE LOCATION - ALL FIELDS ARE AT THE SAME LOCATION. ONLY 4 MIN BETWEEN FIELDS 1 - 12

IRRIGATED BEAUTIFUL GRASS FIELDS THAT DON'T HOLD HEAT LIKE TURF FIELDS

SCHEDULE DESIGNED TO OPTIMIZE RECRUITING 

NOT A STAY TO PLAY EVENT - WE SECURE THE BEST HOTEL RATES AND PASS THEM DIRECTLY TO YOU WITHOUT A MARKUP!
DATES & LOCATION

SATURDAY JULY 25TH - SUNDAY JULY 26
 Rogers Field in Devens, MA
"The best facility on the summer circuit" Big Ten Coach
DIVISIONS & GRAD YEARS:

2021
2022
2023
2023 B
2024
REGISTRATION DETAILS

Registration Fee: $1,675.00 per team
Deposit of $675.00 due upon registration
Final Balance due February 1, 2020
EVENT INFO
All Divisions guaranteed 4 games, plus opportunity for playoffs

Player profile handbooks, including academic information, to be supplied to all college coaches in attendance.

College Coach Recruiting Box at each High School field

Certified officials and weighted brackets

Onsite parking, restrooms, concessions and vendors